HSINCHU, Taiwan – November 17, 2023 – Realtek Semiconductor Corporation (Taiwan Stock Exchange: 2379.TW), a world leading network and multimedia IC provider, today announced that its new Edge AI Human Sensing USB Camera Controller (RTS5866) was selected as a CES 2024 Innovation Awards winner.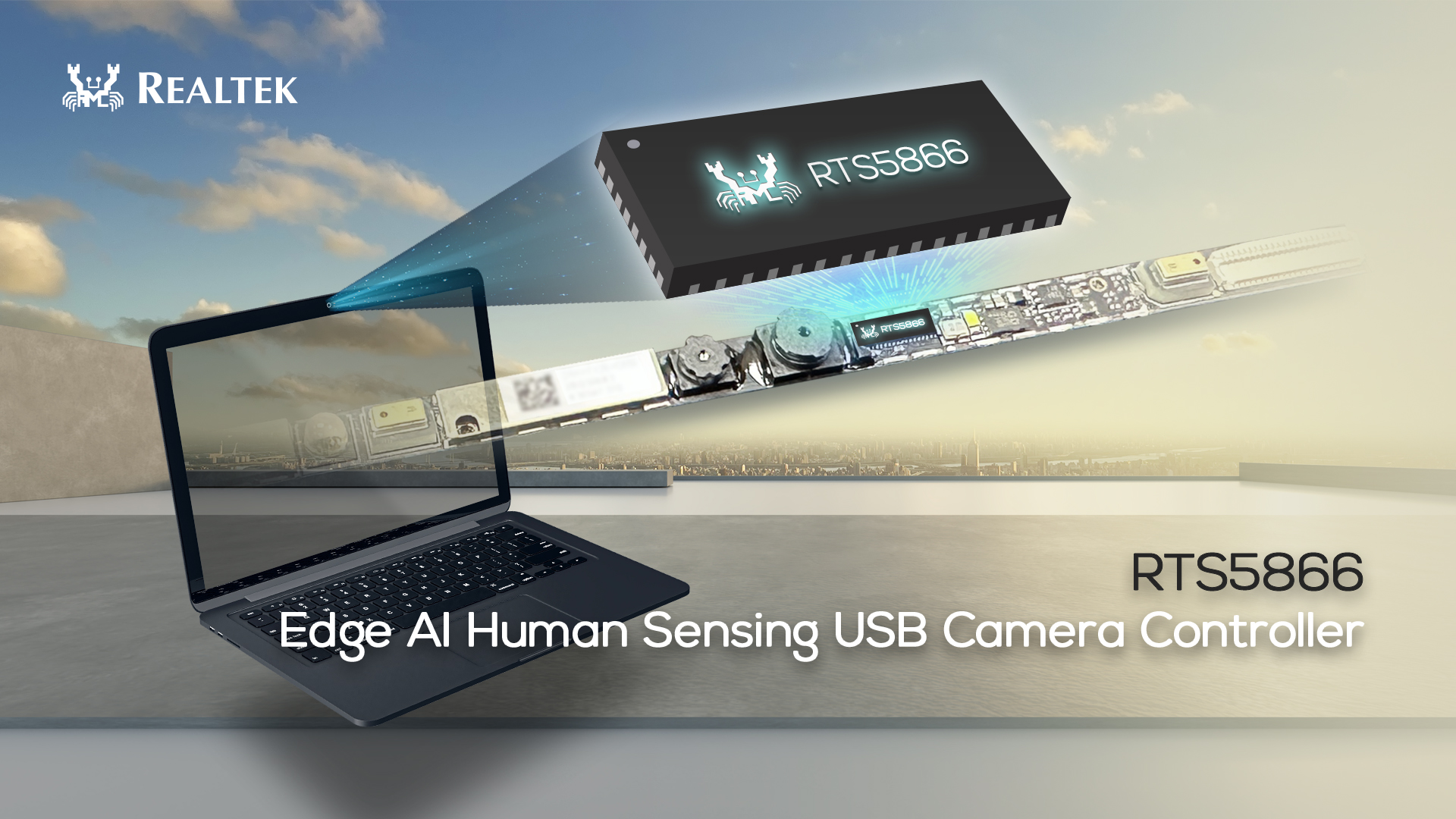 Realtek continues to innovate in edge AI USB camera controller specifications, and win international recognition and awards for a range of products. The RTS5866 is a single chip with built-in edge AI processer and image processing engine. In addition to meeting customer expectations for excellent image quality from a PC built-in camera, it features human-centered AI intelligent functions that significantly improve the convenience of human-computer interaction, and also result in extended battery life.
The RTS5866 is Realtek's newest generation of edge computing (Edge AI) machine vision engine. In addition to assisting the image processing engine to provide a more accurate automatic white balance and automatic exposure to deliver amazing image quality, it also provides a human-centric perception function that allows the camera to identify whether someone is approaching or leaving while the system is 'sleeping'. This function enables the system to intelligently wake-up or enter into sleep-mode to achieve the best power management state for extremely low power consumption in battery-powered scenarios.
When the system is in the normal wake state, the head pose/face detection function can automatically adjust the panel screen brightness, or provide warning messages, to protect screen content privacy. Face landmark feature data (metadata) is reported to the system without an image stream transfer, and no video stream processing is required on the system side to protect user privacy and security at the edge.
The RTS5866 is equipped with the latest image quality processing engine. It offers Realtek's 3rd generation video wide dynamic range (video HDR) image processing technology for Notebook built-in cameras, pushing the video HDR supported resolution from FHD 1080P to 5MP. It also supports a 16:10 aspect ratio for high-end panels.
Realtek continues to innovate in 2D/3D noise reduction technology, with enhanced detail and higher image quality indicators. Realtek's patented technology, along with many years of accumulated video product development and expertise, has resulted in an ideal combination of hardware and sophisticated AI algorithms that can be applied to commercial/consumer/gaming notebook PCs, AIO (All-in-One) desktop, and smart displays. It can also be extended to the application of external USB cameras and other fields.
Yee-Wei Huang, Realtek's Vice President and Spokesman said, "Our customer's edge computing products have recently been mass-produced and launched with the Realtek USB camera control chip built-in, providing users with the best video conferencing image quality, along with innovative AI human-centric perception capabilities for the most convenient and comprehensive user experience".
About Realtek
Realtek Semiconductor Corporation is a world-leading IC provider that designs and develops a wide range of IC products for connected media, communications network, computer peripheral, multimedia and smart interconnect applications. Products include 10/100/1000M/2.5G/5G/10G Ethernet Controllers/PHYs, 10/100/1000M/2.5G/10G Ethernet Switch Controllers/Media Converter Controllers/Gateway Controllers, Wireless LAN Controllers & AP/Router SoCs, xDSL, VoIP Solutions, Bluetooth, xPON, IoT Solutions, Automotive Ethernet Solutions, High Fidelity Audio Solutions for Consumer and PC Applications, Card Reader Controllers, USB 3.2/USB4 Hub Controllers, Type-C PD/Redriver Controllers, PC Embedded Controllers, Web/IP Camera Controllers, LCD Monitor/ATV/DTV Controllers, and Digital Home Center Controllers. With advanced design expertise in RF, analog, and mixed signal circuits, and with strong manufacturing and system knowledge, Realtek offers full-featured, high-performance, low-power, and competitive total solutions. More information on Realtek can be found on the website: www.realtek.com.
Editorial Contact
This email address is being protected from spambots. You need JavaScript enabled to view it.
# # #
Realtek is a trademark of Realtek Semiconductor Corporation Other trademarks or registered trademarks mentioned in this release are the intellectual property of their respective owners.