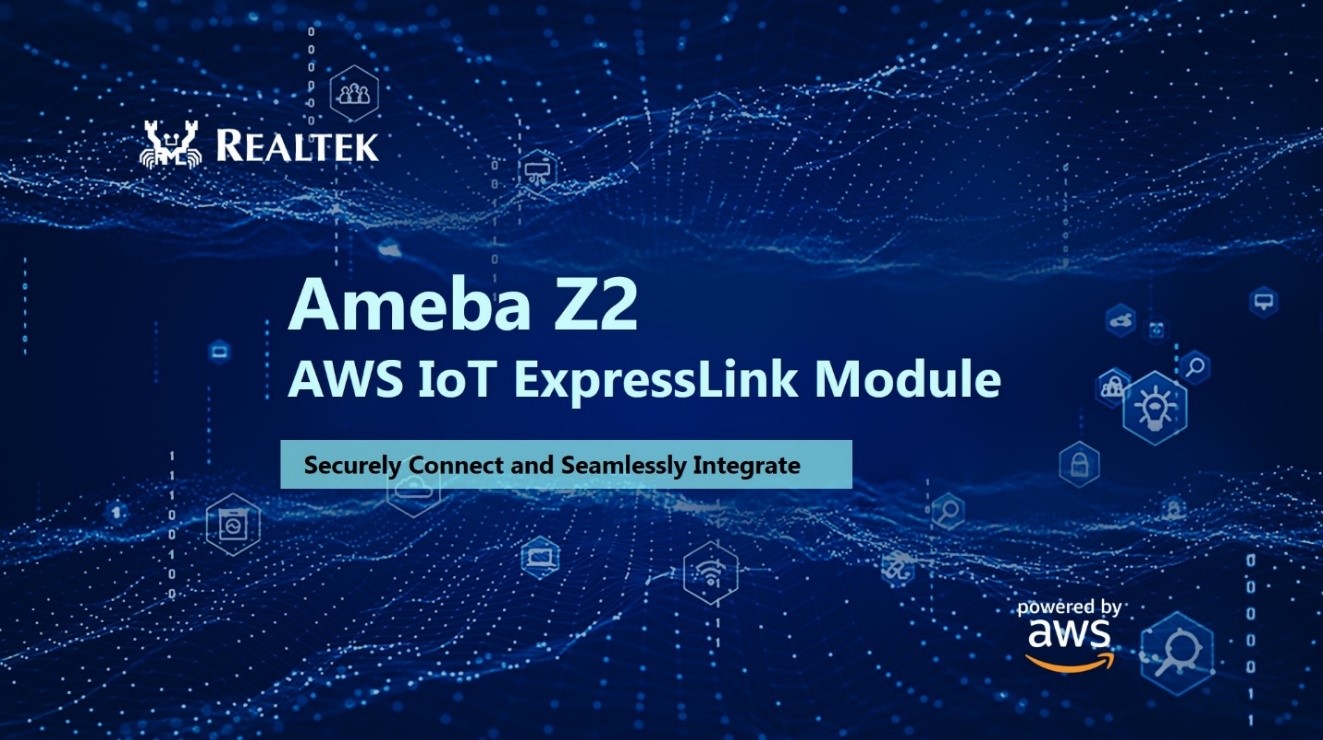 HSINCHU, Taiwan – February 01, 2023 – Realtek Semiconductor Corporation (Taiwan Stock Exchange: 2379.TW), a world leading network and multimedia IC provider, today announced Realtek's cooperation with Amazon Web Services (AWS) to launch the Realtek Ameba Z2 AWS IoT ExpressLink module that provides easy product development and secure cloud connectivity.
Pre-Integrated Streamlined Development Process
Unlike previous IoT development processes that required massive human resource investment, the Realtek Ameba Z2 AWS IoT ExpressLink module makes it faster and easier for you to securely connect devices to AWS and seamlessly integrate with a range of AWS services. The simplified instruction set optimized the development process and reduced costs, and is equipped with both Wi-Fi and Bluetooth to allow customers to transform their products quickly and easily into IoT-connected devices that are ready to connect to the AWS cloud, significantly shortening their product time to market.
Pre-Configured Security Credentials for a Secure Communication Link
The Ameba Z2 AWS IoT ExpressLink module comes with built-in AWS security credentials, allowing customers to complete development without the complications of complex programming processes and encryption methods. As a result, customers can quickly and confidently access more than 200 services on AWS, to collect, store and analyze data.
"Ameba IoT solutions have been in the market for many years. In 2022, Realtek launched its 5th generation solution, the Ameba E series, as part of a commitment to provide global customers with the latest technology in full-featured, highly-efficient, and competitive solutions", said Realtek's Vice President and Spokesman, Yee-Wei Huang. "By using AWS, we have removed developer barriers to cloud integration, while meeting all critical security requirements for the best network quality".
About Realtek
Realtek Semiconductor Corporation is a world-leading IC provider that designs and develops a wide range of IC products for connected media, communications network, computer peripheral, multimedia, and smart interconnect applications. Products include 10/100/1000M/2.5G/5G Ethernet Controllers/PHYs, 10/100/1000M/2.5G/10G Ethernet Switch Controllers/Media Converter Controllers/Gateway Controllers, Wireless LAN Controllers & AP/Router SoCs, xDSL, VoIP Solutions, Bluetooth, xPON, IoT Solutions, Automotive Ethernet Solutions, High Fidelity Audio Solutions for Consumer and PC Applications, Reader/USB Hub/Type-C Controllers, Web/IP Camera Controllers, LCD Monitor/ATV/DTV Controllers, and Digital Home Center Controllers. With advanced design expertise in RF, analog, and mixed signal circuits, and with strong manufacturing and system knowledge, Realtek offers full-featured, high-performance, low-power, and competitive total solutions. More information on Realtek can be found on the website: www.realtek.com.
Editorial Contact
This email address is being protected from spambots. You need JavaScript enabled to view it.
# # #
Realtek is a trademark of Realtek Semiconductor Corporation Other trademarks or registered trademarks mentioned in this release are the intellectual property of their respective owners.