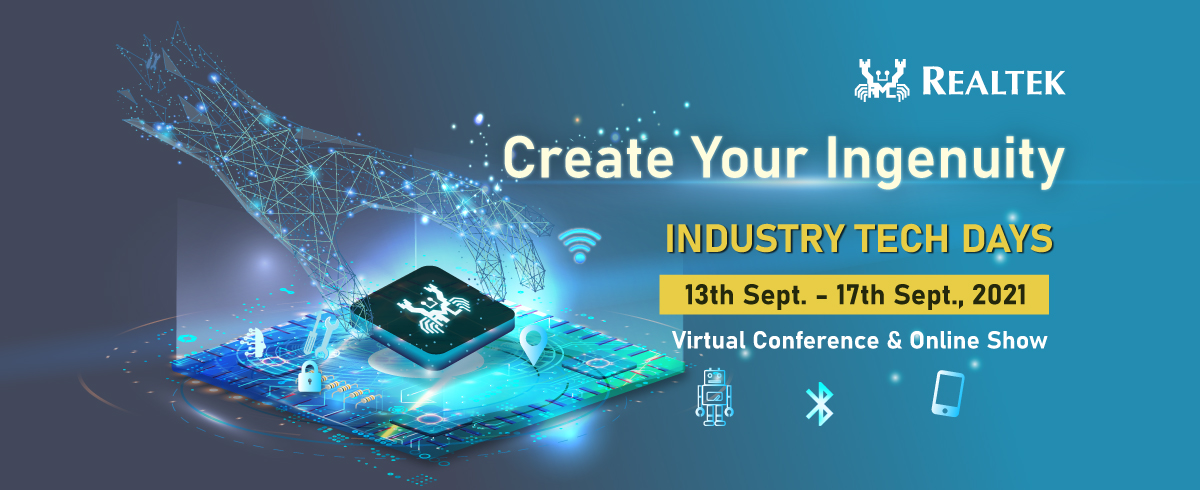 HSINCHU, Taiwan – September 06, 2021 – Realtek Semiconductor Corp., one of the world's leading network and multimedia fabless IC design companies, designs and develops various IC products for wired and wireless communication networks, computer peripherals, and multimedia applications. With years of extensive experience, we occupy a crucial position in IC design. Realtek's business covers Asia, Europe, and the Americas, and is well-known in Europe and the U.S. Realtek has been invited to participate at '2021 Industry Tech Days', a European and American engineering online exhibition, where we will showcase our innovative IC technologies and applications.
2021 Industry Tech Days (ITD) is hosted by EETech on All About Circuits; a community of electrical engineers. Their website averages 4 million monthly page views and reaches 640 thousand members, mostly with an engineering background, with 37% from North America and 23% from Europe. Engineers around the world can interact with one another via online video. The exhibition will be held for five days, from September 13 to 17, 2021, Monday to Friday.
• Free sign-up: https://www.allaboutcircuits.com/tech-days/summer-2021/realtek-semiconductor/
The online exhibition lasts for five days, and the video content will be retained until October 17, 2021, during which they are all available online
Realtek's exhibits include the three items below:
1. Features of the demo version of Ameba IoT SDK
Introduces the application of the demo version of Ameba IoT SDK to the AIoT field. AIoT machine learning is a major trend in contemporary technology. Realtek's Ameba RTL8722DM_MINI Evaluation Board supports development platforms such as MicroPython, Realtek Standard, Arduino, and Tensor Flow Lite, allowing users to readily develop IoT applications and creative works in the AIoT field. Meanwhile, we will showcase a video on 11 applications using the demo version of the SDK, including basic LED lighting control, IoT smart home-related applications, and designs integrated with AI facial recognition to meet the needs of makers in different fields and show how diverse and strong Ameba RTL8722DM_MINI is.
Exhibition Sections: Live Session/ On-Demand Webinar
Introduction Topics: Easy Start to Make your AIoT Dream with Ameba RTL8722DM_MINI Evaluation Board SDK
Exhibition Sections: Video
Introduction Topics: IoT Evaluation Board Demonstrations with Ameba RTL8722DM_MINI
Exhibition Sections: New Product Introductions
Introduction Topics: Ameba IoT Solution for Open-source AIoT

2. Design projects of Bluetooth Audio Solution and BLE IoT Module
We will give an introduction on user development using Realtek's Bluetooth Audio SoC RTL8773CO to help developers use the SDK to create a Bluetooth hearing enhancement implementation. In addition, we will show how to build a Bluetooth mesh application in five days through Realtek Bluetooth based on Richlink's RTL8762C ePy Lite module.
Exhibition Sections: Video
Introduction Topics: How to build up a Bluetooth product in five days? Introduction to​ Realtek BLE 5.0 solution based on Richlink's RTL8762C ePy Lite​ Module​
Exhibition Sections: On-Demand Webinar
Introduction Topics: An Introduction to Bluetooth Audio SoC SDK - Hearing Enhancement Effect Demo with the RTL8773CO
Exhibition Sections: New Product Introductions
Introduction Topics: Realtek's Comprehensive Bluetooth Solutions in an AIoT World

3. Long-Distance PHY (LDPHY) Solution
Realtek's RTL8201G(R)(I) series support a network speed of 10/100Mbps, multiple transmission interfaces, and long-distance transmission surpassing the standard specifications of Ethernet. It is also available in a wide temperature version, providing clients with flexibility in product design.
Exhibition Sections: Technical Articles
Introduction Topics: The Adoption and Use of Long-Distance PHY
According to Yee Wei Huang, Realtek's Spokesperson and Vice President, Chip R&D technology will drive the future trend of global technology. Our theme for this exhibition is 'Create Your Ingenuity', which indicates that Realtek provides highly compatible and easy-to-use chip solutions with a wide range of applications and flexibility. This enables engineers to create unique products. Our complete introduction to the advantages and development of Realtek's chips through videos will inspire many new ideas to be realized.
About Realtek
Realtek Semiconductor Corporation is a world-leading IC provider that designs and develops a wide range of IC products for communications network, computer peripheral, and multimedia applications. Products include 10/100/1000/2500M Ethernet Controllers/PHYs, 10/100/1000/2500M Ethernet Switch Controllers/Media Converter Controllers/Gateway Controllers, Wireless LAN Controllers & AP/Router SoCs, xDSL, VoIP Solutions, Bluetooth, xPON, IoT Solutions, Automotive Ethernet Solutions, High Fidelity Audio Solutions for Consumer and PC Applications, Card Reader Controllers, Web/IP Camera Controllers, LCD Monitor/TV Controllers, and Digital Home Center Controllers. With advanced design expertise in RF, analog, and mixed signal circuits, and with strong manufacturing and system knowledge, Realtek offers full-featured, high-performance, and competitive total solutions. More information on Realtek can be found on the website at www.realtek.com.
Editorial Contact
This email address is being protected from spambots. You need JavaScript enabled to view it.
# # #
Realtek is a trademark of Realtek Semiconductor Corp. Other trademarks or registered trademarks mentioned in this release are the intellectual property of their respective owners