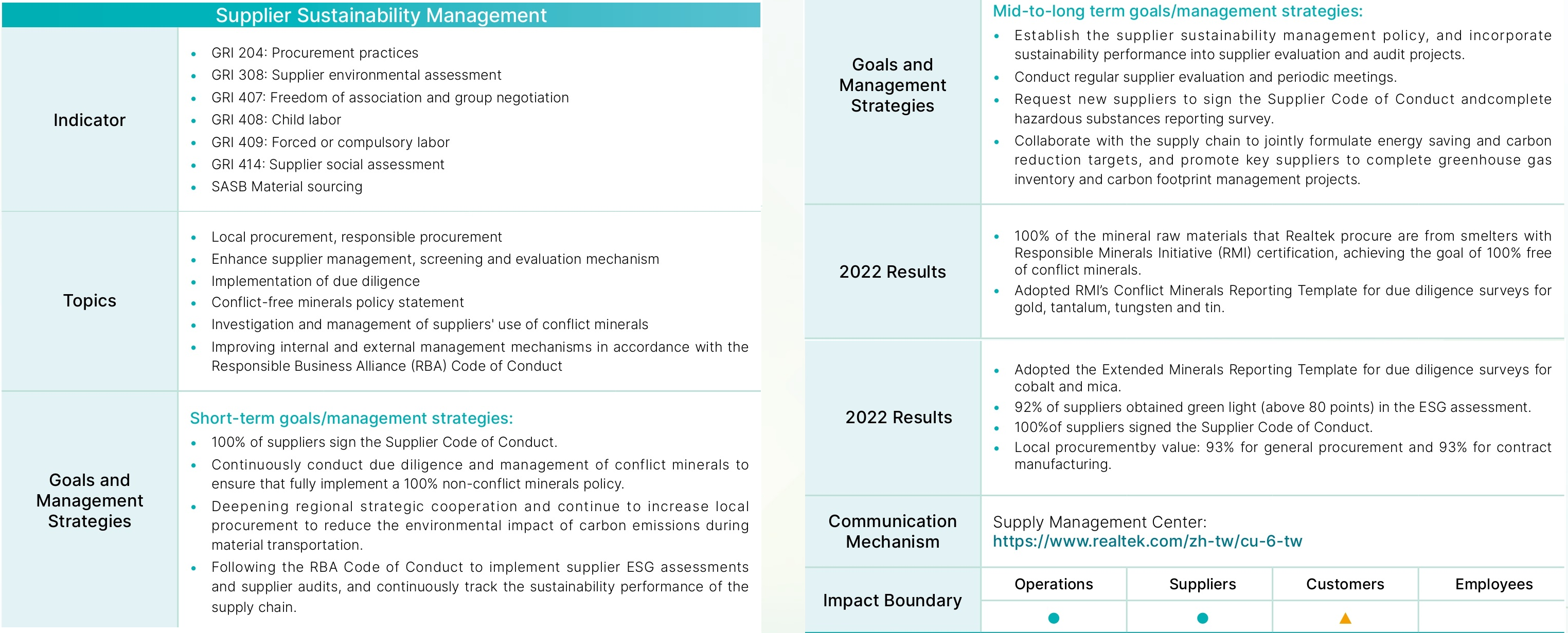 Realtek fulfills responsibilities towards the supply chain management in order to promote a safe working environment for its supply chain partners, ensure that employees are respected and treated with dignity, implement environmental protection and comply with ethical standards. We stablished the Supplier Code of Conduct in line with the RBA Code of Conduct, the UN's Guiding Principles on Business and Human Rights, the International Labor Office's Declaration of Fundamental Principles and Rights at Work, and the UN's Universal Declaration of Human Rights. Suppliers are required to adhere to five aspects: labor, health and safety, environment, business ethics, and management systems. Suppliers shall fully comply with the laws and regulations of the countries or regions in which they operate. Besides strengthening sustainability management of existing suppliers, Realtek requires that all new suppliers sign the Supplier Code of Conduct or provide their own corporate code of conduct, the RBA Code of Conduct, and a declaration of conflict-free minerals statement, to ensure responsible supply chain management.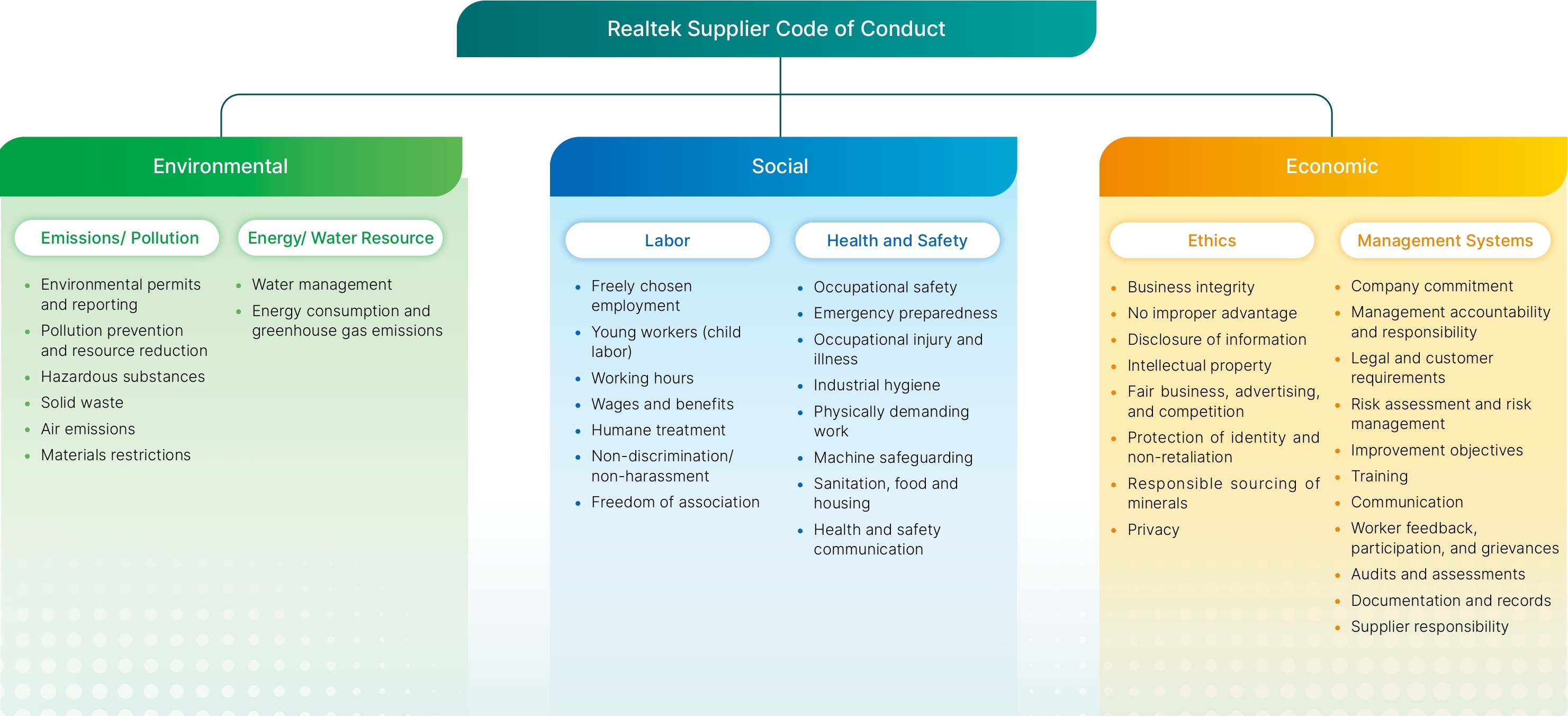 Signing the Supplier Code of Conduct
Realtek has four major categories of suppliers: foundries, packaging companies, testing companies, and memory manufacturers. To ensure sustainable operations, across each of these categories, Realtek requires that suppliers sign the Supplier Code of Conduct, in order to continue to strengthen responsible supply chain management. In 2022, Realtek had 37 main suppliers, 100% (Note.) of which had signed the Supplier Code of Conduct. Goals include continuing to strengthen management and for the signing rate to reach 100%. Please refer to the official website for details of the Supplier Code of Conduct.
Supplier Management Mechanisms
Realtek is one of the leading suppliers in the global semiconductor industry. Working with our supply chain partners to build a responsible supply chain is a key indicator of sustainable management. Each quarter, Realtek evaluates the quality reliability, delivery accuracy, degree of cooperation, processing fees, and technical performance of suppliers, then gives each supplier a score of A, B, C, or D. For suppliers that score a C or D, we actively provide counseling and assistance for improvement. Realtek temporarily suspends partnerships with suppliers that score a D on three consecutive evaluations or that fail to achieve at least a B on five consecutive evaluations.
Besides the above quality requirements, Realtek uses a sustainability management approach to establish supplier management methods that include assessments, audits, and evaluations. Suppliers are asked to sign a quality assessment questionnaire, environmental quality and management of hazardous substances questionnaire, the Conflict Minerals Reporting Survey, and the Supplier Code of Conduct. Suppliers that pass a series of reviews, meet Realtek's environmental protection and product substance requirements, and provide product substance statements are qualified for Green Partner. Realtek rigorously evaluates the sustainability qualifications of each supply chain partner, and grows with suppliers by
improving corporate governance, valuing our employees , and raising environmental protection awareness. Together, we aim to build a business model focused on sustainable development.
Supplier ESG Risks
Realtek evaluate supplier's ESG risks based on three major dimensions: governance, environmental, and social. A broad scope of management criteria aims to ensure that suppliers embrace sustainable operations concepts and take concrete actions, Realtek envisions collaborating with supplier partners to build a sustainable business models. The relevent standard are as follows:

Realtek assigned a weighted score to the three dimensions of ESG categories and evaluate suppliers based on ESG certification obtained. Suppliers were classified into three levels: green light (80-100 points), yellow light (60-79 points, and red light (59 or fewer points). Among our 37 suppliers, 34 scored a green light, 3 scored a yellow light, and none scored a red light.

Non-Conflict Mineral Policy
In order to strengthen the human rights management in supply chain, Realtek has required suppliers to sign a "Non- Conflict Minerals Policy Statement" since 2010, Realtek also follows the due diligence procedures outlined by the Organization for Economic Cooperation and Development (OECD) to ensure that the materials used in the products provided by suppliers do not come from conflict-affected and high risk areas (CAHRAs).
Realtek utilizes the Conflict Minerals Reporting Template (CMRT) issued by the Responsible Minerals Initiative (RMI) for conducting due diligence on conflict minerals including tin, tungsten, tantalum, and gold. Additionally, the Extended Minerals Reporting Template (EMRT) is used for cobalt and mica sourcing investigation, aiming to ensure that the minerals sources all come from RMI-certified smelters, refineries or nations. Realtek has established an automated supplier conflict minerals reporting system, requiring suppliers to regularly update their information. The system assist responsible units effectively access comprehensive information. In 2022, 100% of suppliers submitted conflict minerals-related information through the management system and all met with RMI requirements.

Realtek uses tin, tantalum, tungsten, and gold from 227 smelters in 40 countries. 100% of our suppliers use smelters with RMI certification. We prohibit minerals from non government, or illegal military factions in areas or neighboring countries controlled by the Democratic Republic of the Congo. Since 2022, Realtek has initiated due diligence investigations into the sources of cobalt and mica raw materials used by suppliers, in response to the Extended Minerals Reporting Template (EMRT) released by RMI. Once officially identified as conflict minerals, detailed disclosure of relevant information is ensured. In the future, Realtek will continue to refrain our suppliers from procuring any conflict minerals as part of our commitment to supporting human rights and sustainable operations. This will prevent the use of conflict minerals that come from areas associated with serious human rights abuse, illegal trade, or the financing of violence.