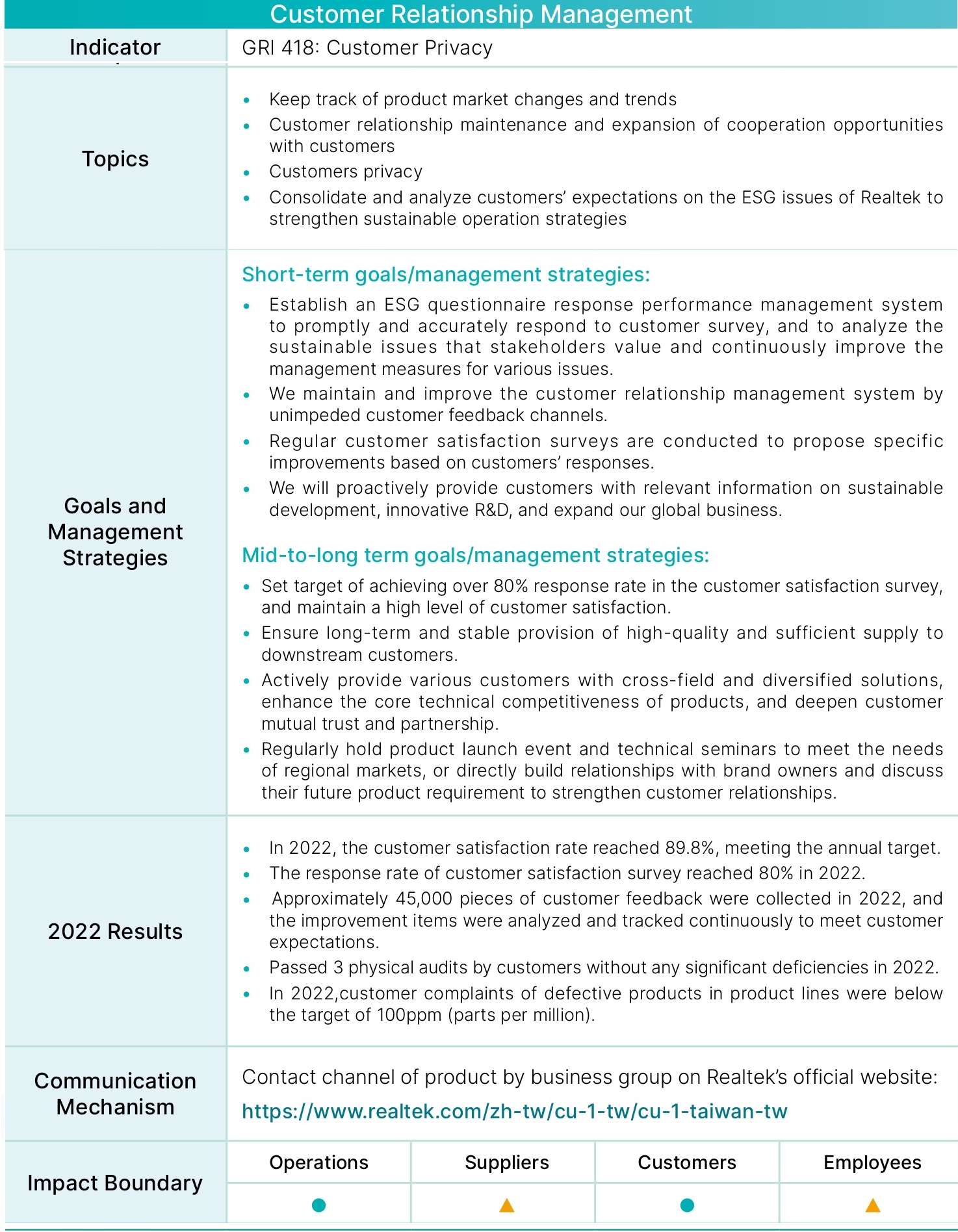 Realtek places great importance to customer relationships, and its belief in customer relations is to constantly build a competitive quality management system to provide customers with the highest quality products and services. At the same time, in order to meet customer needs, we follow the requirements of the ISO 9001 Quality Management Systems in all aspects, including innovation development, design, product promotion and sales. Through a process-oriented self-monitoring and evaluation, we continue to deepen the solid quality and trust relations with customers. Leading the industry since 1995, Realtek became the first IC design company in Taiwan to achieve the ISO 9001 Quality Management Systems certification.
In response to the rise of digital communication models in the post-epidemic era, we have maintained professional communication with customers through online and in-person meetings and in-person visits to promote product line solutions and new product planning. Additionally, we regularly collect customer feedback and suggestions through our business departments, while staying updated with market research report to systematically keep up-to-date with customer needs. Through a complete and comprehensive customer communication management mechanism, Realtek ensures that customer and market needs are aligned with its R&D innovation goals. By actively understanding customer needs, we keep launching products and services that meet or even exceed customer expectations, working together to create greater values.
Customer satisfaction is a crucial fundamental for enhancing customer relationships development. Realtek listens to customers feedback through online and face-to-face interactions in to implement a comprehensive and effective customer relationship management process. An annual customer satisfaction surveys is conducted to understand customer feedback and requirements for Realtek's products and services. Customer suggestions for product optimization are carefully reviewed and relevant improvement plans are developed. In 2022, Realtek collected a total of 54 customer satisfaction questionnaires, achieving an overall satisfaction rate of 89.8%. Realtek proactively engage with customers upon receiving the feedback and demands put forward by customers through the satisfaction survey system or other channel, and comprehensively understands the issues raised. For technical issues, Realtek assists customers in connecting with global distributors and FAE (Field Application Engineer) resource team immediately to confirm the problem and carry out experimental design. Through the multi-departmental cooperation mechanism, the abnormal situation of the product can be discovered in real time, and Realtek's professional software and hardware engineering team can provide quick support, gather customer feedback, propose the most effective solutions for corrections and improvements. Furthermore,, Realtek has planned to establish an "ESG Questionnaire Response Performance Management System" in 2023. Through an electronic platform and a system management database that are coordinated by the Sustainable Development Center, we can respond to the ESG survey and questionnaire requests from customers and other external stakeholders, identify important issues and grasp the direction of sustainable development. We activily respond to stakeholders' expectations towards Realtek's sustainable operation, and continuously improving Realtek's sustainable development goal.