What benefits does Realtek offer?
The Employee Welfare Committee provides holiday and birthday gift vouchers as

well as a self-service benefit plan.

Employee discounted gift vouchers and special prices at certain retailers.

Free annual health checks help employees implement self-health care management.

Disbursing of holiday bonuses and subsidies for weddings and funerals.

The Employee Welfare Committee allocates funds for various club activities.

The Employee Assistance Program provides psychological counseling, legal counseling, and stress relief massage services.

Professional consultation by resident physicians and health assistance by resident nurses.

The employee cafeteria, café, and convenience stores provide employees with a variety of discounted food & beverage services.

Employee group insurance and business insurance, in addition to labor and health insurance to enhance their work and life protection.

Realtek Family Day and the annual year-end banquet online prize drawing.

Realtek Recreation Hall provides space for exercise, reading, and gaming, as well as a breastfeeding room, and a health management facility.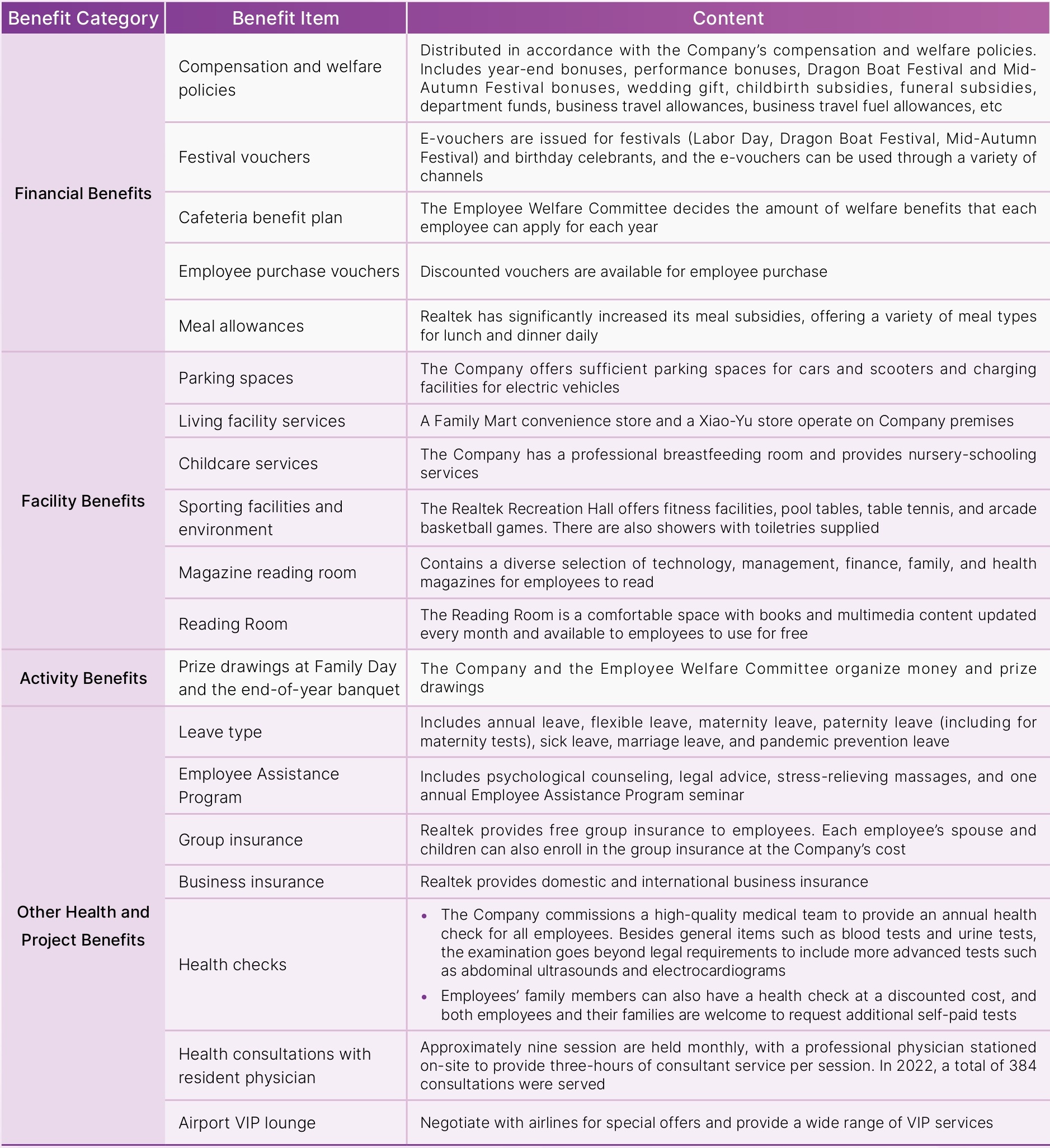 Unpaid Parental Leave System
Realtek deeply cares about every employee and is happy to see all members of this Big Crab Family smoothly and safely complete every important phase of their lives. As part of this commitment, we implemented an unpaid parental leave system based on the "Gender Equality in Employment Act". All male and female employees can apply for leave to look after their family members. We also offer childbirth gifts to share the joy of the birth of new crab family members.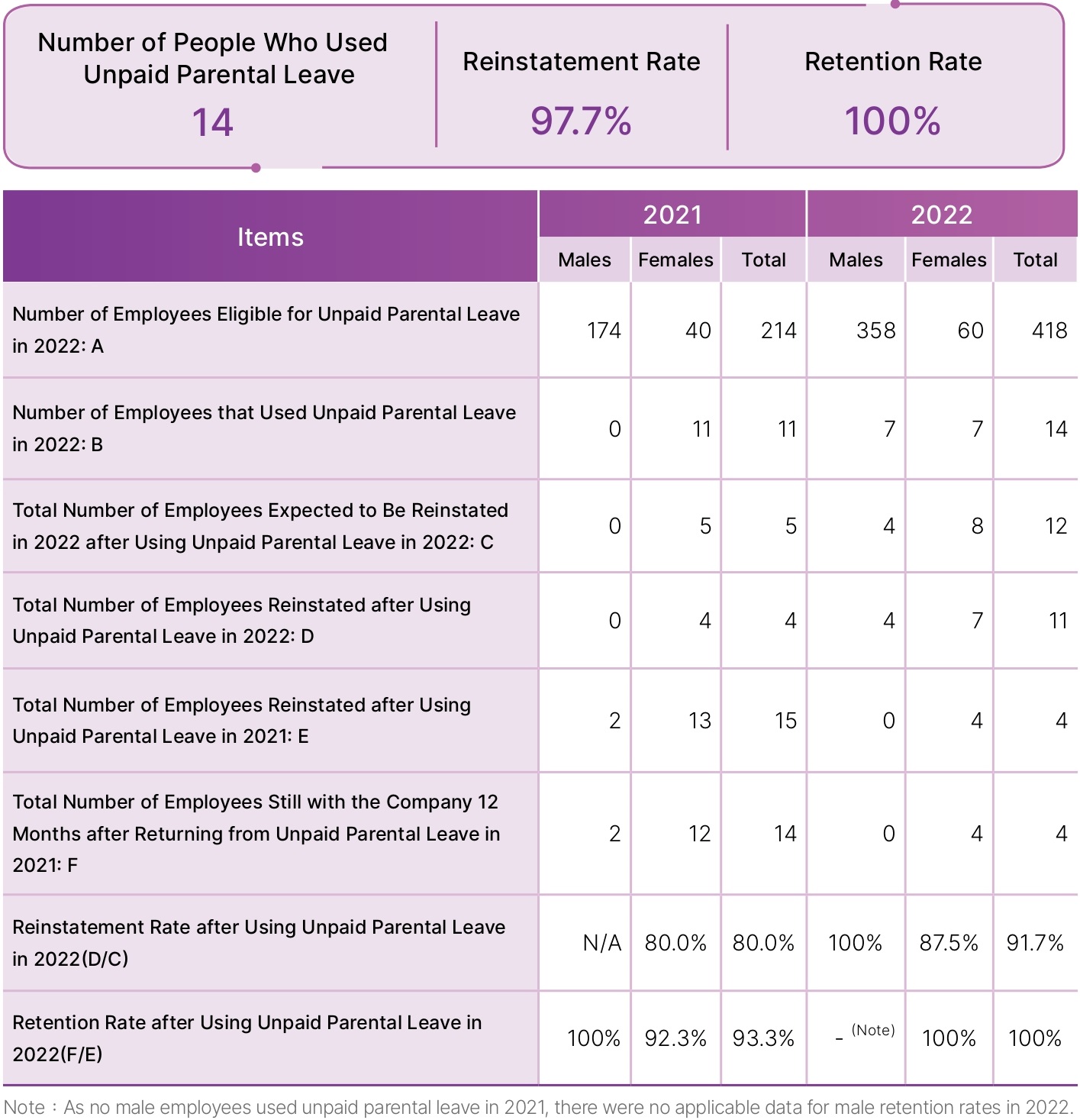 Preemptive Implementation of the Government's Pandemic Prevention Policies
Since the outbreak of the COVID-19 pandemic, Realtek has closely monitored the pandemic and the government's pandemic prevention policies. By quickly establishing cross-department response teams, we kept abreast of changes in the pandemic, preemptively launched safety and health defense mechanisms, ensured the development of various pandemic prevention measures and control actions, enhanced risk prevention management, and implementing emergency response measures. We simultaneously formulated various pandemic prevention measures and organized all employees to participate. The Company effectively ensured the environmental safety and operational safety and efficiency of the Realtek factory areas to protect the health of all employees.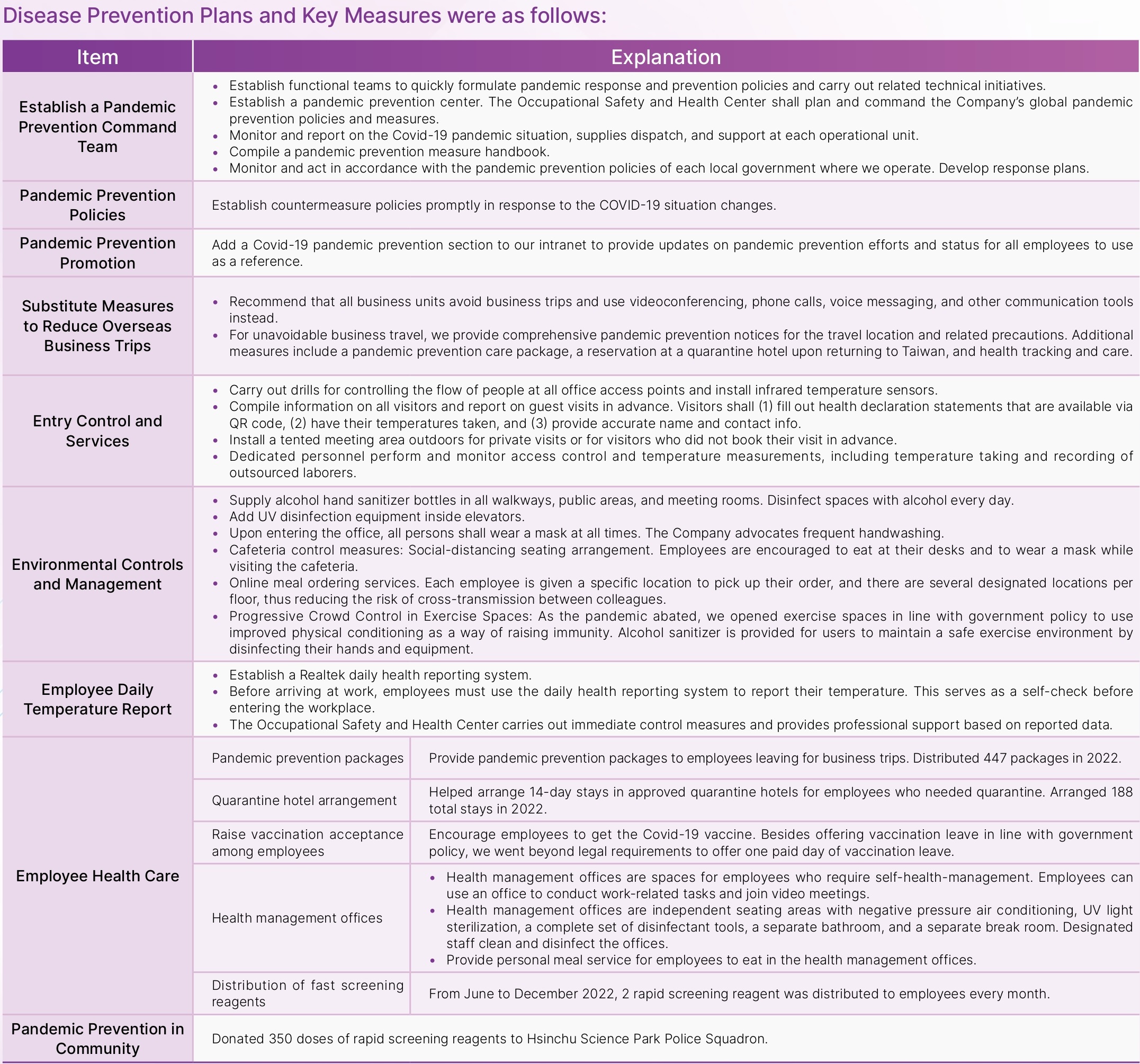 Selecting Quality Teams to Conduct Annual On-Site Health Checks
Realtek has always deeply cared about the physical and mental health of our employees. We go beyond legal requirements and organize annual health checks free of charge to help employees and their families carefully monitor their health, continuing to search and add new self-health examinations for employees to receive more comprehensive health care. We strictly select high-quality health diagnosis and medical teams to carry out professional health checks on-site, from preliminary planning, briefing, and appointment, to contact, health check consultation during the inspection process, and professional communication on the examination day. Employees and their family members effortlessly and efficiently complete the examinations and receive timely responses on related issues and questions. They can also receive subsequent health seminars and statistical analysis.
When an employee's health examination results with major abnormalities, we arrange for the resident physician to provide consultations and provide tailored advice based on the individual's health history and situation before and after re-examination. The health office regularly conducts follow-up tracking and care while reminding employees to go for follow-up clinical visits and report tracking data. The tracking support helps keep employees physically and mentally healthy. Realtek expanded its resident physician program with NTUH Hsinchu Branch to held nine on-site session monthly and provided three-hours of consultant service per session. In 2022, a total of 384 employees joined the consultations.