Supplier Management
Realtek is one of the leading suppliers in the global semiconductor industry. We are an IC design house positioned at the upstream end of the semiconductor supply chain. Our supplier partners handle mid and back-end activities, such as raw material procurement and wafer fabrication. We form commercial partnerships based on specialization and cooperation. Working with suppliers to build a sustainable supply chain is a key indicator of our ability to manage the development of a green environment.
Using our sustainable supplier management approach, we establish supplier management policies that include assessments, audits, and evaluations. Risk analysis procedures concentrate on three main areas: economic, environmental, and social. We request that suppliers sign quality assessment questionnaires, environmental quality and management of hazardous substances questionnaires, Conflict Minerals questionnaires, and the Supplier Code of Conduct. Each quarter, we evaluate the quality reliability, delivery times, degree of cooperation, processing cost, and technical performance of our suppliers, then give each a score of A, B, C, or D. We temporarily suspend partnerships with suppliers that score a D on three consecutive evaluations or that fail to achieve at least a B on five consecutive evaluations. Suppliers that meet our green product substance requirements, provide product substance statements, and pass environmental system assessments are qualified as Green Partners. Realtek rigorously evaluates the sustainability qualifications of each of our supply chain partners and seeks to grow with our suppliers by raising environmental protection awareness. Together we can build cooperative channels focused on R&D, design, and manufacturing services for a sustainable environment.
Supply Chain Sustainable Management Procedures
Item

Objective

Explanation

1

New Supplier Evaluation

Evaluate suppliers based on product quality, quality systems, environmentally friendly substances, and related areas to ensure that new suppliers satisfy the strict quality requirements of Realtek and fulfill our sustainability management approach. Two new suppliers evaluated in 2020 both passed evaluation.

2

Supplier Audit

Conduct annual factory audits to ensure the quality of qualified suppliers, as well as the degree of implementation of their management systems. If a defect is found, then the supplier is required to promptly propose a suitable improvement plan. Explicit methods and an improvement schedule shall also be set.

Besides on-site audits of qualified suppliers' management, we examine management actions and implementation of green products. Compliance with international regulations and sustainability development objectives are our top priorities.

3

Supplier Evaluation

Conduct group evaluations of suppliers, giving scores quarterly on quality, cost, environmental management, delivery time, and technical performance. Provide counseling and assistance to under-performing suppliers in accordance with sustainability management principles.

4

Regular Supplier Conference

Hold regular meetings with suppliers. Convene key suppliers once a month and secondary suppliers once every two months to check their quality, environmental management, delivery time, and product development progress. Provide advice and assistance in a timely manner to support long-term partnerships.
Supplier Environmental, Social, and Governance (ESG) Risks
Realtek concentrates on three main categories of supplier risk: economic, environmental, and social. A broad scope of management standards aims to ensure that suppliers adopt sustainable operations concepts, thereby joining us in building sustainable business models.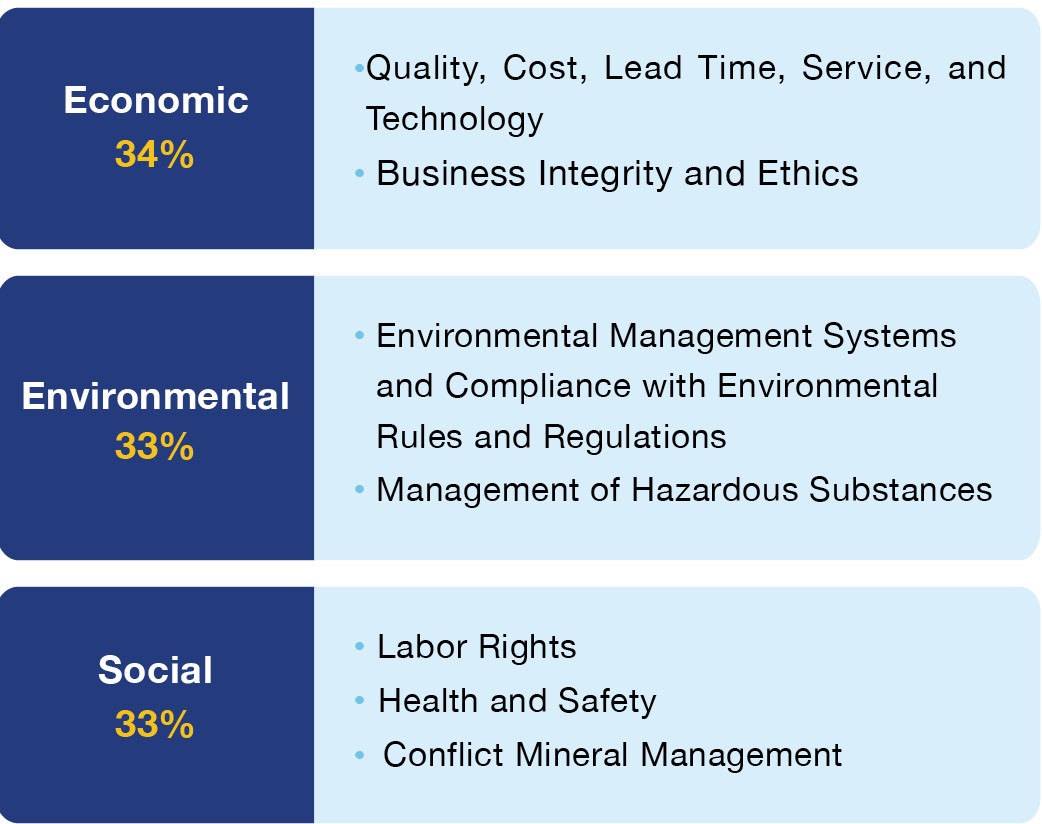 Supplier Certifications